Our ethos is to exceed our client's expectations on every delivery. Saying this, we believe that no intention is good enough to overcome a poor execution and therefore we invest in our quality assurance team to help us get things done right.
Our
Certifications
In Wimpex, we ensure we tick all the right boxes. Being food focused, we rely on certificates to assure our customers we are qualified to supply the services we provide.
Please select certificate to preview
DAIRY RMP CERTIFICATE
To export dairy products (other than to Australia), they must be produced and processed under a registered and verified risk management programme (RMP). If at any point the dairy products are processed, transported, or stored outside of an approved RMP, you can't get an official assurance and your products will lose their eligibility for export.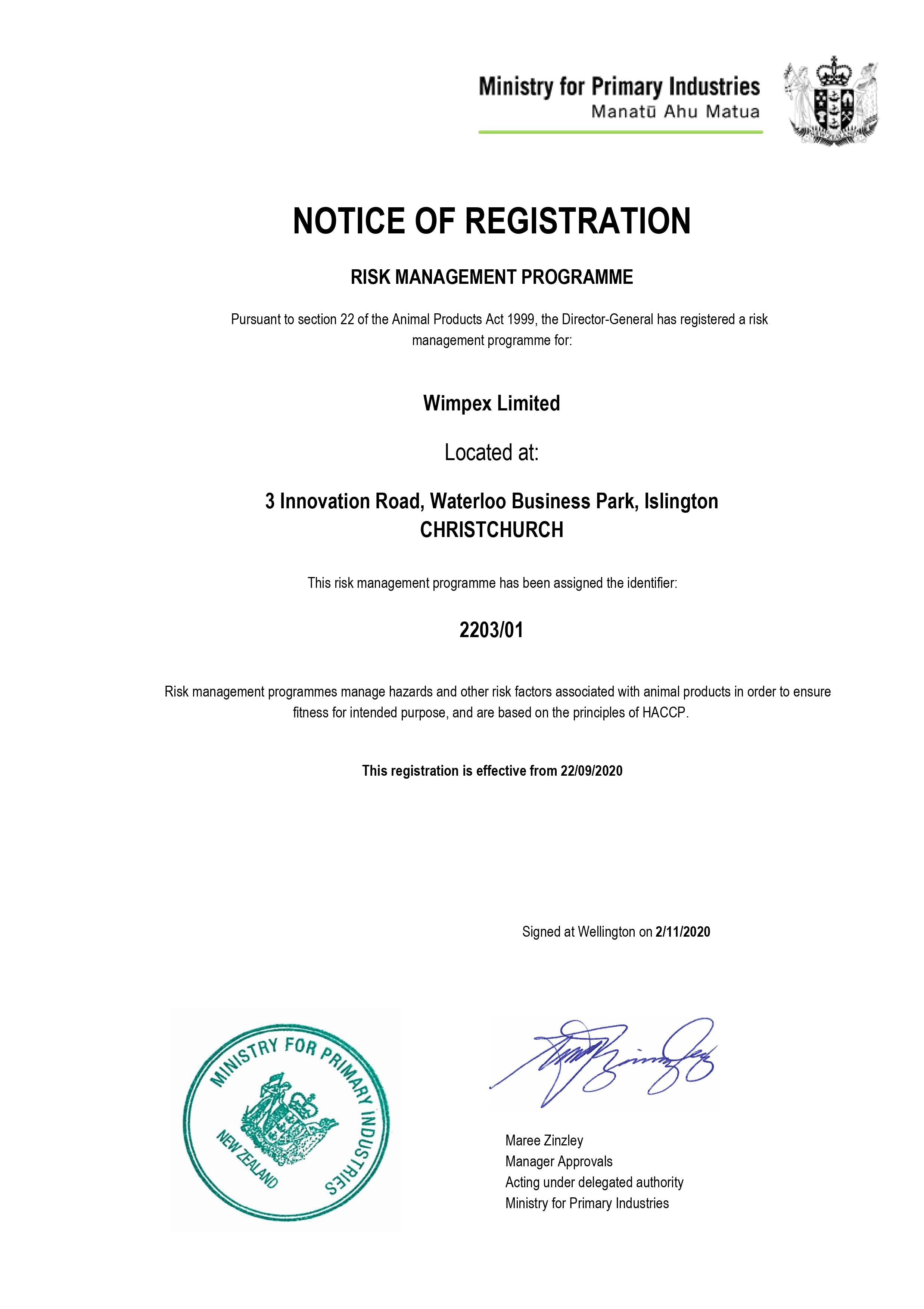 BRC CERTIFICATION (IN PROCESS)
The BRC Global Standards provide a framework to manage product safety, integrity, legality, quality, and the operational controls in the food, food ingredient, manufacturing, processing and packaging industries. First published in 1998, the BRCGS Global Standard for Food Safety is now in its eighth issue having evolved with input from many leading global specifiers, the Standard is well known and established globally and there is a suite of other BRC Global Standards. ORGANIC CERTIFICATE (BIOGRO)
BioGro certification is internationally recognised and accredited. This means with BioGro certification, New Zealand producers can access international markets and tap into the growing consumer demand for organic produce. BioGro assists producers to meet international organic regulations in key export markets including Europe, Canada, the US and parts of Asia.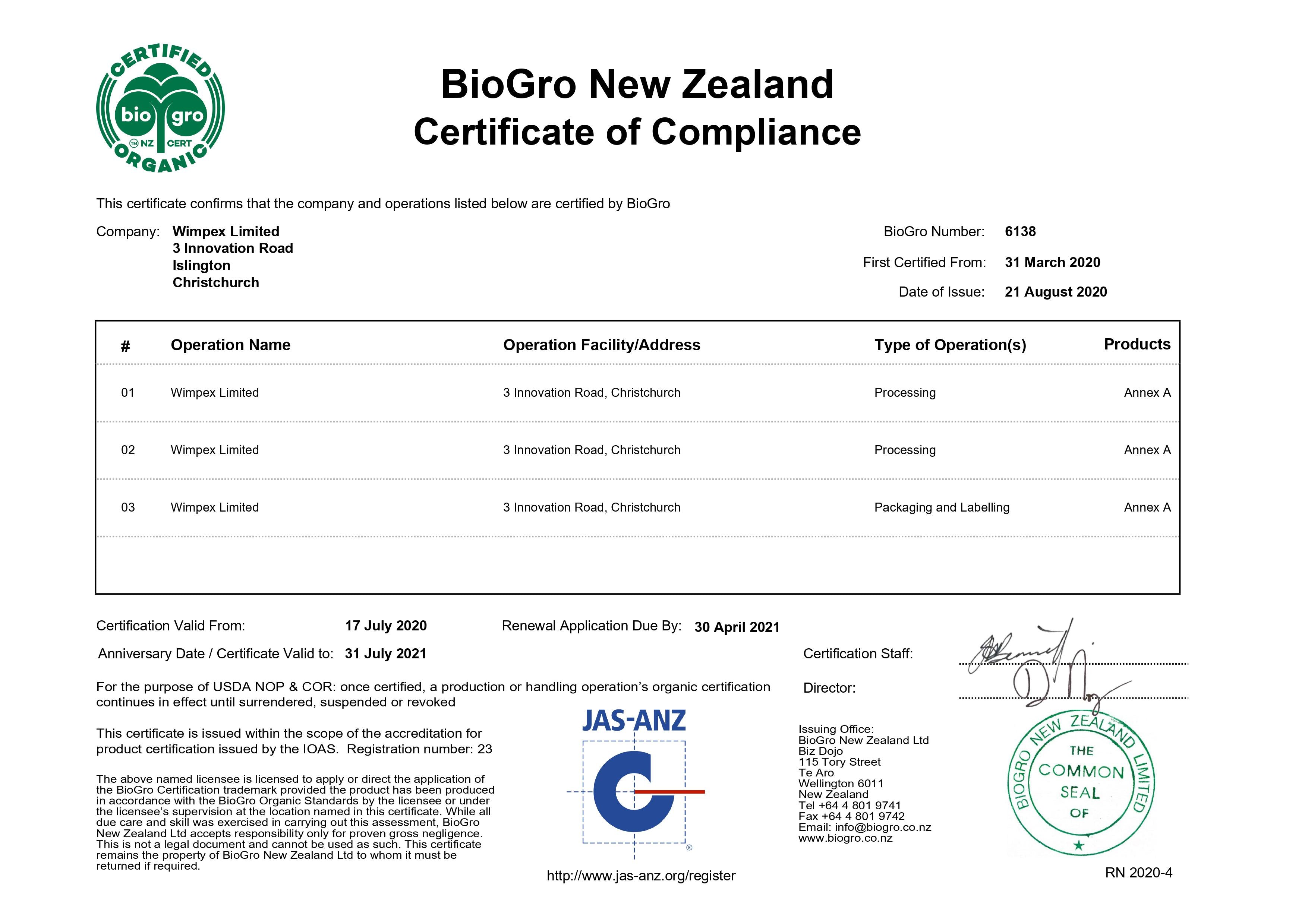 ANIMAL PRODUCT EXPORTER
Commercial exporters must be registered under the Animal Products Act 1999 if they export dairy products or foods containing animal products.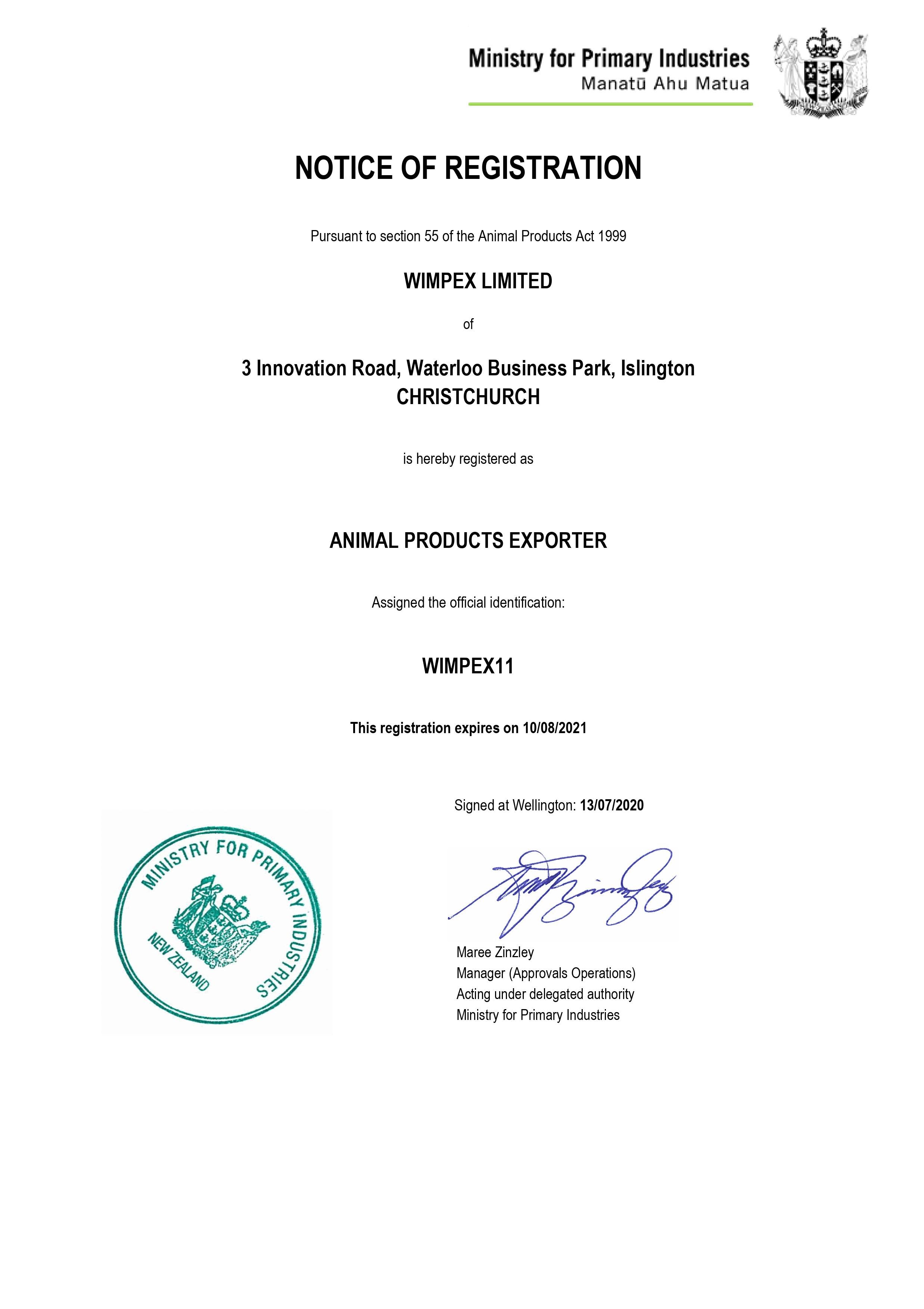 FOOD IMPORTER
All food imported to New Zealand must be imported by a registered food importer. Food importers must ensure food is safe and suitable. Food must meet labelling and ingredients requirements. We help by checking with the supplier and/or manufacturer of the food that they operate under a safe food programme, as appropriate for their country. This includes ensuring it is kept at the right temperature, protected from pests and kept away from other products which might contaminate it.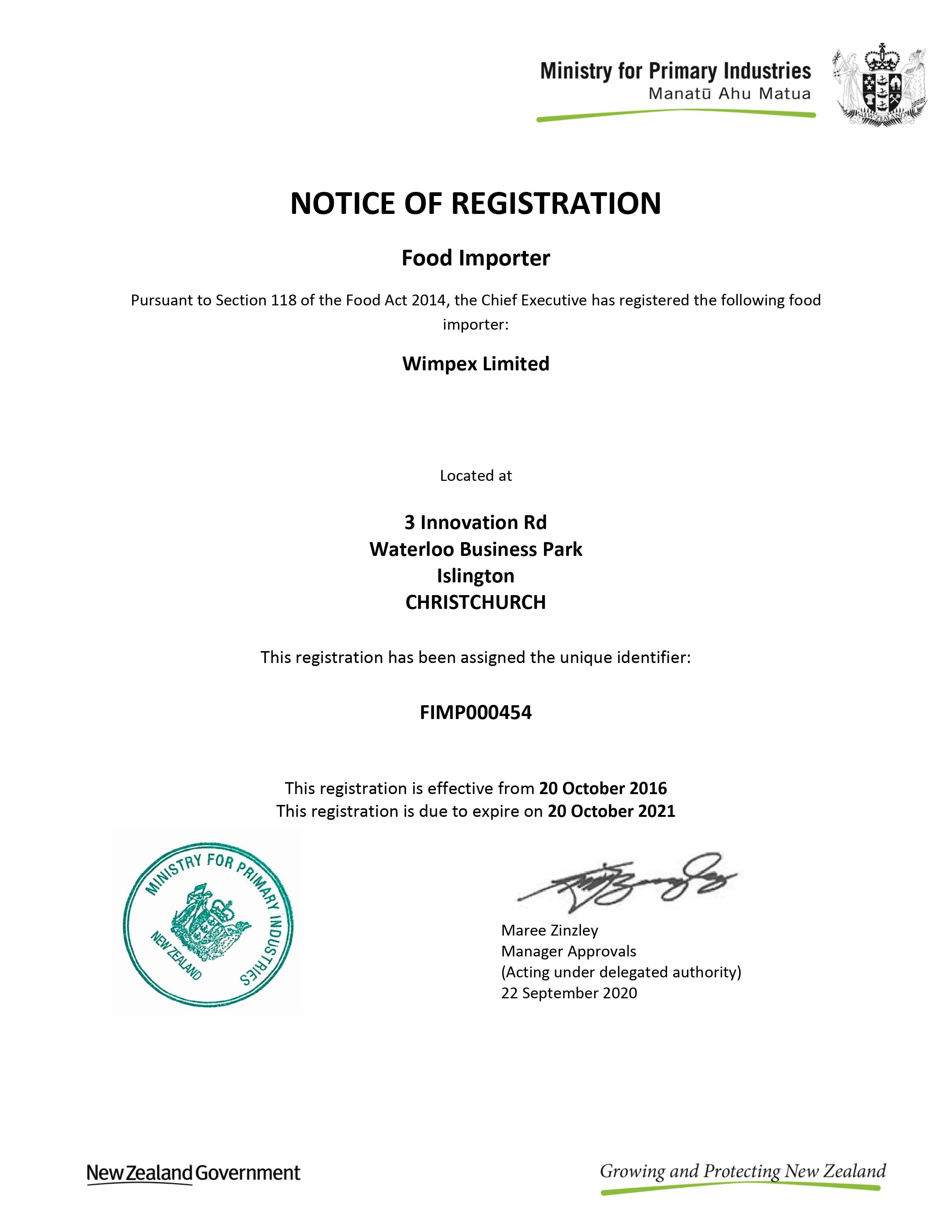 HALAL CERTIFICATE (NZDIT)
The word 'Halal' means permitted or lawful. To consider food Halal, it is necessary that it conforms to Islamic law in the Qur'an, the traditions of Prophet Muhammad, and the consensus of Muslim Scholars. Food must not include or contain anything that is considered unlawful (Haram) under Islamic law. Food must be prepared, processed, transported and stored using appliances or media free from anything unlawful under Islamic law. Food must not have been in direct contact with other foods that do not meet these requirements.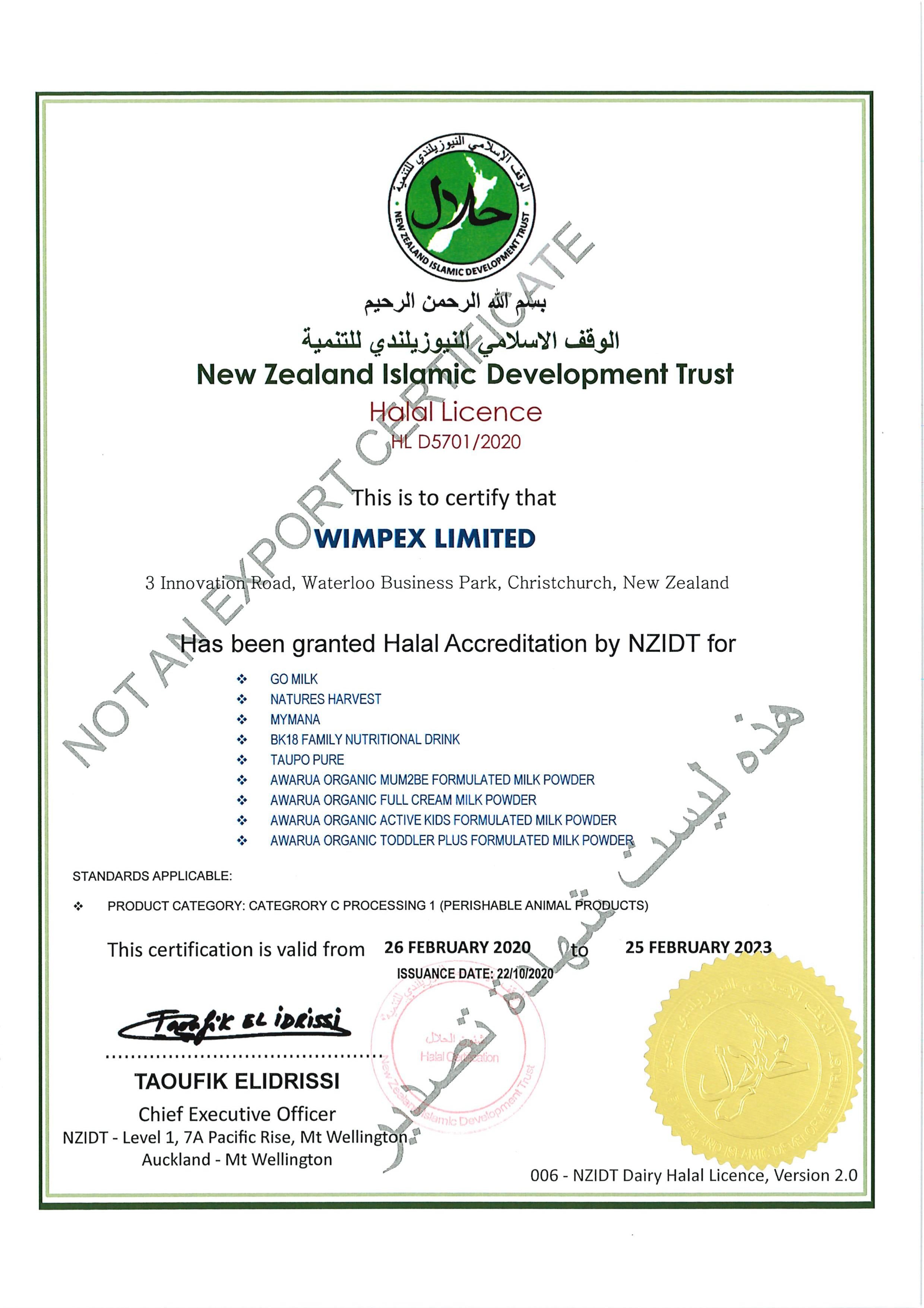 INDUSTRIAL HEMP
In order to grow, trade in, or process industrial hemp as an agricultural crop an individual, body corporate, or partnership needs to be licensed under the Misuse of Drugs (Industrial Hemp) Regulations 2006. Industrial hemp is a variety of Cannabis sativa that has a tetrahydrocannabinol (THC) content generally below 0.35 percent. Industrial hemp varieties are controlled drugs and are listed in Schedule 3 Part I of the Misuse of Drugs Act 1975.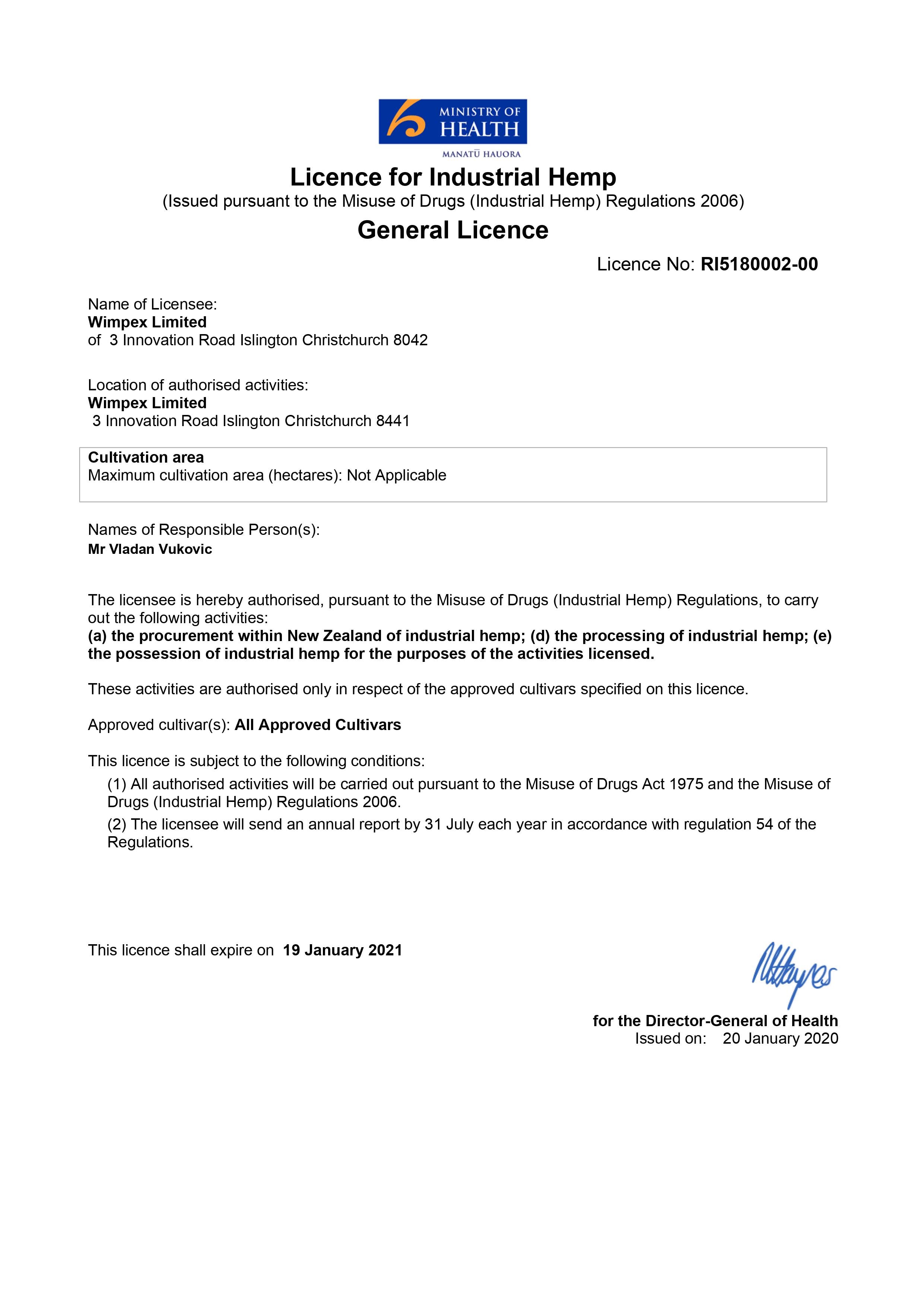 ATF OPERATOR
All transitional and containment facilities must have an MPI-approved operator. The facility operator is the person who will have overall responsibility for the transitional or containment facility. A facility operator must have the authority to make changes at a facility when directed by MPI. Facilities receiving containers must also have enough trained, accredited persons available to check containers upon arrival.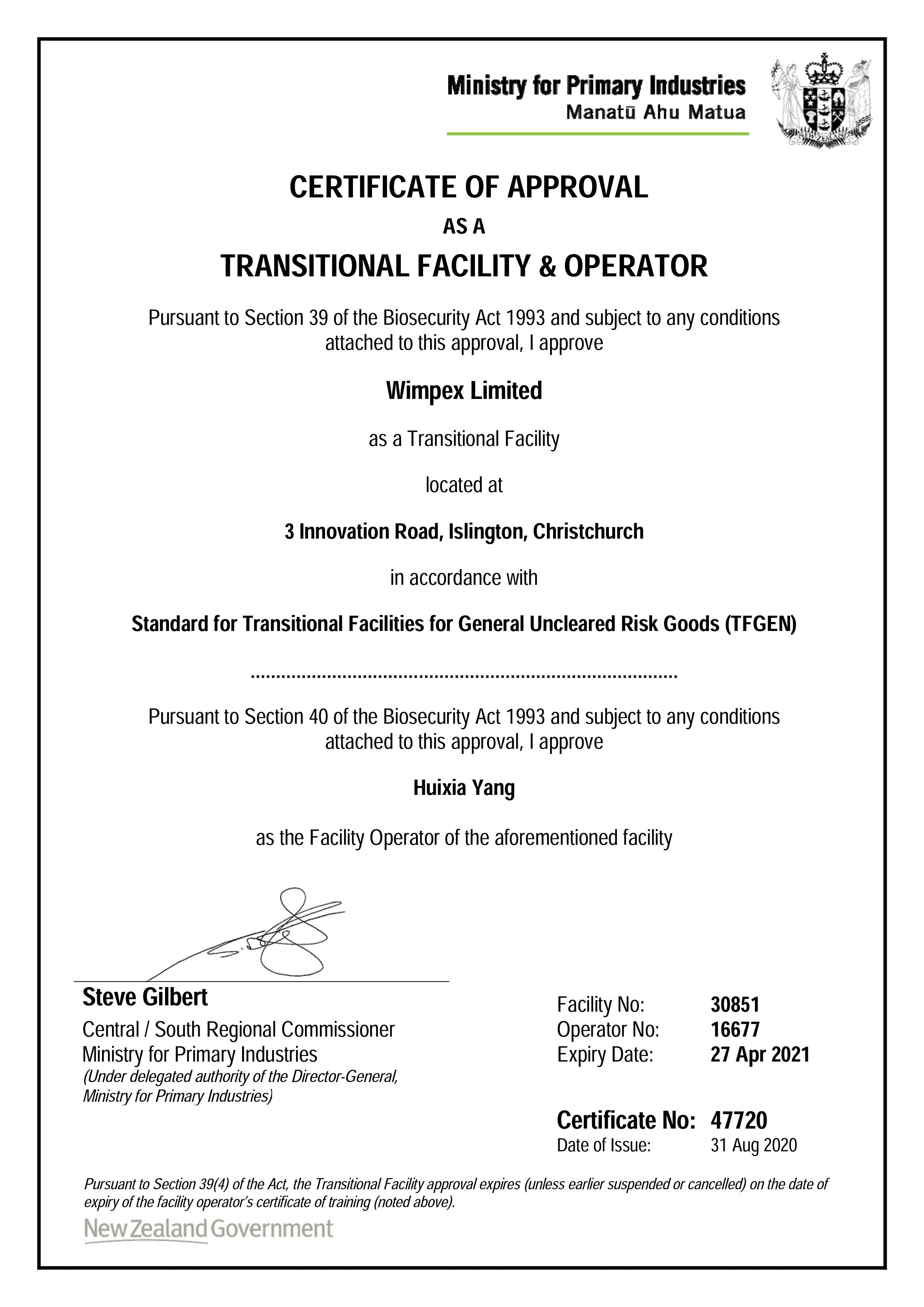 TFL CERTIFICATE (IN PROCESS)
Drivers and operators of freight, vehicle recovery and passenger transport services industries must comply with a range of rules and regulations. In most cases this includes holding an appropriate transport service licence. These regulations and rules help transport service licence holders to run successful and compliant businesses while ensuring safe management practices and protecting other road users. Awards & Recognition
Recognition from the wider industry and our partners is testimony towards our industry leading standards and Service offerings.
OUR AWARDS & RECOGNITION
EY Entrepreneur of the Year
New business development concerns all the activities involved in realising new business opportunities, including product or service design, business model design, and marketing.
OUR AWARDS & RECOGNITION
Gold Award Winner
New business development concerns all the activities involved in realising new business opportunities, including products.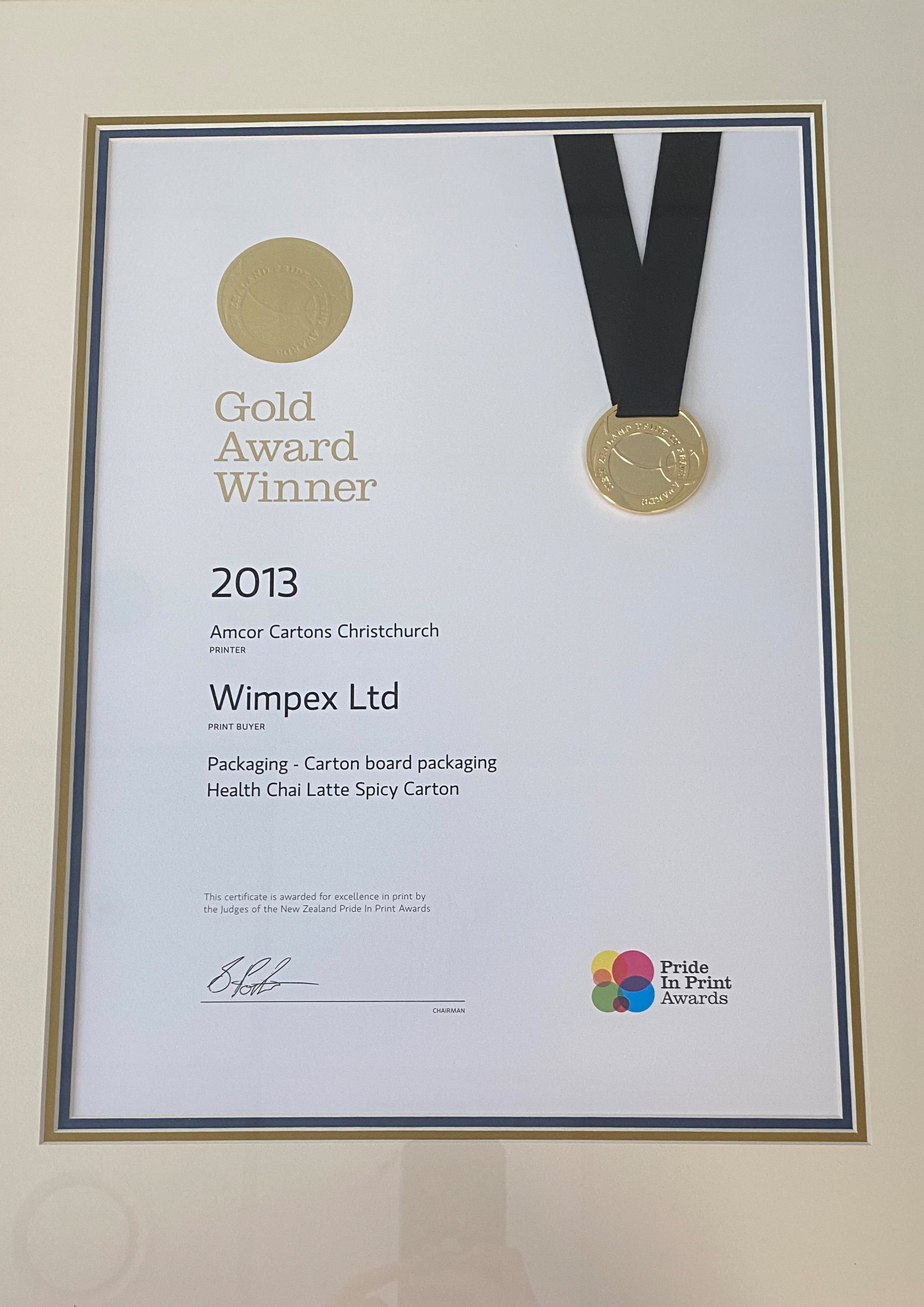 The Quality Team
The Wimpex Quality Assurance and Quality Control Team ensure that the products and services meet our client's requirements. We conduct activities that validate our quality procedures and requirements which typically involves planning, observation and inspection .